Description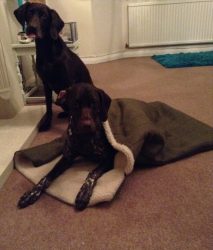 DOG OR CAT SLEEPING BAG, DOG OR CAT BLANKET, SNUGGLE SACK
SNUGGLE SACKS ARE FOR ALL YEAR ROUND.
This double soft sack is great for sleeping on top of while enjoying that special summer morning sunbeam,
And when cold weather comes again it will be perfect for
Burrowing on those winter nights and long winter day-naps.
You can slip a pillow inside for added comfort or let your Pet burrow in the soft Sherpa lining.
This snuggle sack will delight even the most discriminating of Chilly Paws.
These beds are made for dogs or cats who love to snuggle down to sleep.
All beds are machine washable
These Pita Pet Beds are padded with a high quality Sherpa fleece on the inside,
Brown fleece on the bottom
And a Harris Tweed fabric on the top
Suitable for most breeds,
Approximately
Bed Size    Dimensions in Cm   
X/SMALL                                                        40 X 30
SMALL                                                            65 x 55
MEDIUM                                                        80 x 60
Large                                                               100 x 80
X Large                                                           120 x 100